Meet our Head Instructors!
Jamie Pound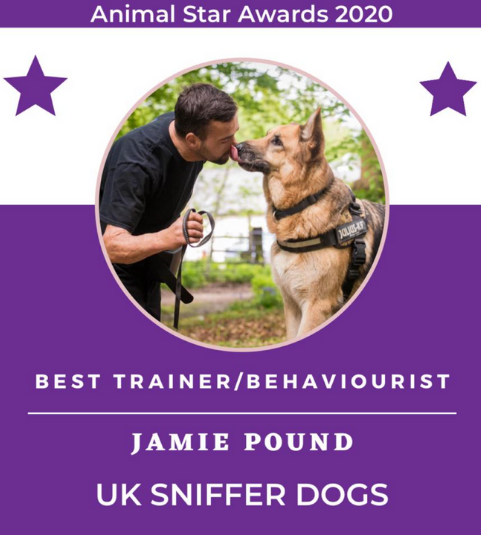 Jamie Pound is both the Founder of UK Sniffer Dogs and Director of Jamie Pound Dog Training. Jamie became a dog trainer in 201
3 after suffering horrific burns as an electrician in 2010. He spent 3 years retraining whilst going through rehabilitation for his burns injuries which completely changed
h
is career path and now works with his passion, dogs!

Jamie Pound Dog Training consists of two training schools, Chorleywood Dog Training & Berkhamsted Dog Training. Currently in 2
021 there are over 200 pet dogs per week enjoying group classes and workshops run by Jamie and his team. The most popular classes being UK Sniffer Dogs - adding scent detection to our schools has been fantastic for both our clients and us as a business.

In 2020 Jamie won "Dog Trainer & Behaviourist of the year" in a nationally recognised award for his work with pet dogs and their owners. In 2021 Jamie and his wife Gemma took UK Sniffer Dogs to Dragon's Den on BBC. Although they didn't get investment the Dragons were very impressed with UK Sniffer Dogs.

Jamie formed UK Sniffer Dogs in 2018 after realising how beneficial scent activities were for his reactive dog Frankie. Jamie then not only started to apply scent activities to reactive dogs in 121 consultations but in group classes for fun and started to see the benefits for not just reactive dogs but all dogs, of all breeds, of any age and their owners.

Jamie has now trained over 200 other dog trainers in practical instructor courses since 2018, giving them the tools and knowledge to teach UK Sniffer Dogs within their own pet dog schools. Jamie has also taken the courses online, allowing us to have instructors and pet dog owners participating in UK Sniffer Dogs globally.

Jamie truly believes every dog should become a "UK Sniffer Dog".
Mike Newland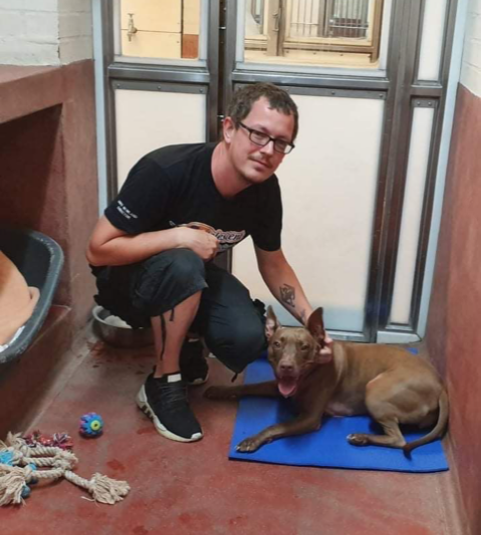 Mike Newland is a UK Sniffer Dogs Head Instructor as well as a Director at Adolescent Dogs in Guildford, a successful company that has trained over 15,000 pet dogs and their owners since 2006. His passion is in behaviour modification and he specialises in the rehabilitation of pet dogs with reactivity and aggression issues. Having worked with some of the worlds most renowned trainers, he has developed a training programme that combines science-based training, ACE and scent work to successfully rehabilitate dogs and to train owners.

Mike loves working with a range of dogs at his UK Sniffer Dogs classes. Often not welcome in 'mainstream' classes, reactive dogs and their owners enjoy the safe haven that his class environment provides; whilst puppies and adult dogs alike really benefit from the mental stimulation and enrichment.

Mike works with pet dog owners, trainers and behaviourists on a one to one basis and via workshops as well as running specialist webinars for dog trainers across the world via his Online Academy, which has helped to train over 2,000 dogs since 2020.

Involved with dog rescues on a regular basis, Mike also volunteers his time to work with some of the most challenging behavioural cases to help them to find forever homes, fostering reactive dogs to help with their rehabilitation, and organising staff training days to provide hands on training to staff and volunteers. He also visits local Veterinary Centres to provide seminars on running successful puppy classes and giving up to date information on socialisation, diet and behaviour.
Top